About
Attorney Michael J. Girardi
Michael J. Girardi is an estate and elder law attorney. He spends his days meeting with families in the Alle-Kiski Valley either in his Lower Burrell office, or at his clients' homes, offices, hospital rooms, or nursing facilities. According to Attorney Girardi, "The best part about my job is getting to know people – to learn about their families, where they grew up, how they met their spouse, what they did for a career, and what their children and grandchildren are like. Being able to give peace-of-mind and comfort to those that are planning for the inevitable, and relieving much of stress and anxiety that comes with the passing of a loved one makes my role as an estate and elder law attorney especially rewarding."
Attorney Girardi was born and raised in New Kensington. He is the son of Frank and Barbara and brother to Domenick and David. He graduated from Valley High School in 2004, and he played quarterback for the Vikings. He likes to boast that his last play ever was a game-winning touchdown pass to future NFL player, Toney Clemons. After high school, Michael headed south, and obtained his undergraduate degree in Political Science from Eckerd College in St. Petersburg, Florida.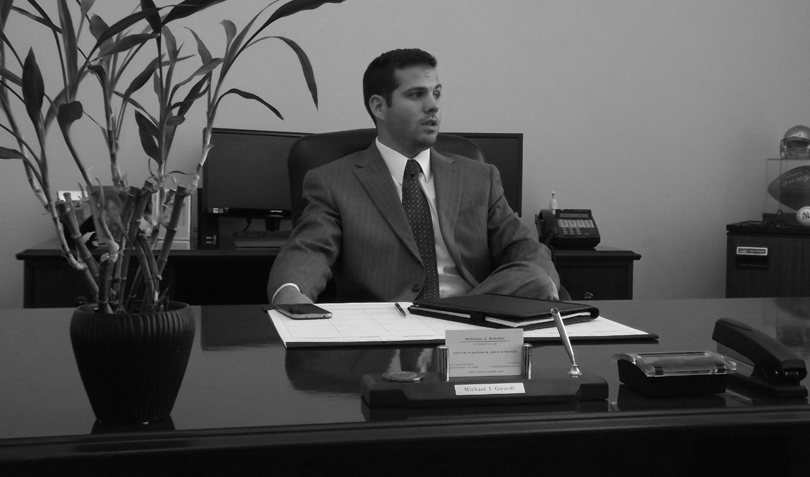 Attorney Michael J. Girardi
After spending four years in the sun and sand of the Gulf Coast, Michael decided to return home to be closer to his family. He earned his Juris Doctor from the University of Pittsburgh School of Law in 2012, graduating cum laude and as a member of the University of Pittsburgh Law Review.
Today, Attorney Girardi lives in Cheswick, with his better half, Colleen, their one-year old son, Grayson, and his dog, Niko, where he is a member of the Cheswick Borough Council. While away from work, he enjoys spending time with his family (Grayson loves playing peekaboo), working in his garden, making homemade wine, walking and playing ball with Niko, and reading about history and politics. On Saturdays in the fall, he cheers for the Northwestern University football team, where his brother David, is a coach. Michael is also a member of the New Kensington Rotary and tries to find time to train for and compete in marathons and triathlons.